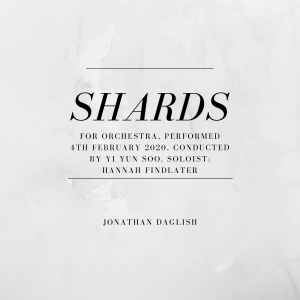 'Shards' was written for and selected by the Royal Welsh College of Music and Drama's Repertoire Orchestra, ran by conductors Yi Yun Soo and Josh Asokan. This non-auditioned orchestra is primarily aimed at providing a platform for first and second year undergraduates to gain orchestral playing experience.
The title 'Shards' comes from the overall concept of the piece (uniquely identifiable fragments), following events during my January. I was privileged to have Shards recorded 4th Febuary 2019 at the Royal Welsh College of Music and Drama in the Dora Stoutzker Hall alongside postgraduate composer Jared Destros' 'Fanfare'.
Audio mixed and recorded by Jonathan Daglish.
Conducted by Yi Yun Soo with soloist Hannah Findlater on Clarinet.