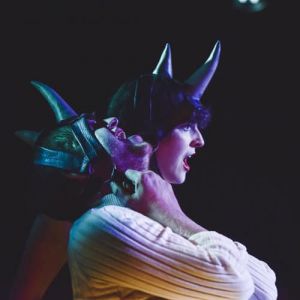 'Université, République Française, 2020. A Rhinoceros stampedes through campus. Drifting student Nicky is at loss, what even is truth any more? Nothing feels real – except, maybe that Rhinoceros… After Rhinoceros: The Red Pill – a radicalisation horror for the f**king normies of the Netflix generation.'
Myself and George Rigby wrote the music and sound design for this theatre production, written by Nessah Muthy and directed by Debbie Hannan, adapted from 'Rhinoceros' by Eugene Ionesco. Performed at Royal Welsh, cancelled due to Covid-19.
Gate Theatre April 2020 // https://www.gatetheatre.co.uk/whats-on/new-2020-after-rhinoceros-the-red-pill
Royal Welsh College of Music and Drama // https://www.rwcmd.ac.uk/events/new-2020
CAST
Rita – Harriet Chomley
John – Casey Giolito
Debbie – Meredith Lewis
Nicky – Ramat S. Musa
Leah – Yasemin Ozdemir
Dominic – Gabriel Scott
Andrew – Wyatt Varley
Steven – Garyn Williams
Set & Costume Designer: Ruby Boswell-Green
Lighting Design: Jack Porter
Sound Designers: Jonathan Daglish & George Rigby
Production Manager: Daz James
Stage Manager: Claire Hill
Deputy Stage Managers: Eleanor Walton
Assistant Stage Manager: Annie Keane
Photography by Kirsten McTernan.