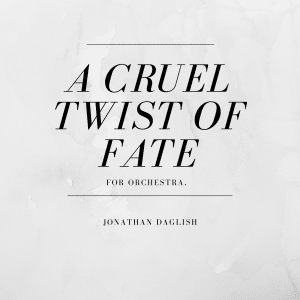 Life often has a strange way of working itself out, which can feel incredibly cruel at times. However, I believe everything happens for a reason, and it is as a result of these 'cruel twists of fate' which ultimately help shape and guide us into the future.
"A Cruel Twist of Fate" is my letter to this sentiment, starting incredibly exposed and fragile, blossoming into three melodic gestures with their own sections that are all intrinsically simple but repeated, explored, never wanting to end..
'A Cruel Twist of Fate' was commissioned by the Ignite Symphony Orchestra and performed in their January 2023 concert at the Royal Welsh College of Music and Drama alongside Beethoven's Symphony No. 5 and Mendelssohn's Violin Concert performed by sensational Violinist Lucy Gould.
I was very happy that the concert was sold out with over 200 people in the audience, and I feel incredibly lucky that so many of my friends came to support my piece which was so personal to me. Thank you to all the musicians who brought 'A Cruel Twist of Fate' to life.
Audio mixed and recorded by Jonathan Daglish.
Conducted by Rhys Herbert.
Performed and recorded Saturday 7th January 2023.
IGNITE SYMPHONY ORCHESTRA JANUARY 2023
FLUTES
Josephine Connor*
Lleucu Parri
Jack Mainwaring (Piccolo)
OBOES
Flic Cowell*
Eddie Chung
CLARINETS
Eleanor Kershaw*
Hannah Findlater
BASSOONS
Joseph Colbeck-Jones*
Finn Heathfield
FRENCH HORNS
Holly Greenwood-Rogers*
Matthew Smith
TRUMPETS
Ed Burfield*
Daisy Starnes
TROMBONES
Anya-Louise Loy*
Ella Tyrrell
Jeremy Roberts
TUBA
Georgina Hill*
TIMPANI
Steffan Dawe*
1ST VIOLINS
Grace Shepherd**
Sanne Heaven
Conor Simpson
Hannah Bourn
Daya Grace
Sam Wilson
Sophie Capern
Alicia Wiseman
Mattea Little
Ranen Chan
2ND VIOLINS
Rob Cavaye*
Emily Brooks
Rachel Wilson
Anya Simister
Sija Zhou
Harry Moore
Jeanette Pastuszak
VIOLAS
Mungo Everett-Jordan*
Isobel Adams
Emma Farnsworth
Georgia Steel
CELLOS
Lucy Caston*
Elinor Newcombe
Emily Harker
Joshua Eyre
Rhys Nicholson
BASSES
Anton Avis*
Jocelyn Churchill
**Leader
*Section Principle